IWC BIG PILOT'S WATCH EDITION MUHAMMAD ALI.
A TRIBUTE TO THE LEGEND AND TO THE GREATEST OF ALL TIME.
The Watch Reference number is 5004 / one of 250. Like new special edition IWC watch (it was never worn) Sold with: IWC original packaging & IWC paperwork, Sold with the very rare Limited Champ's Edition of GOAT—GREATEST OF ALL TIME the ultimate tribute to Muhammad Ali.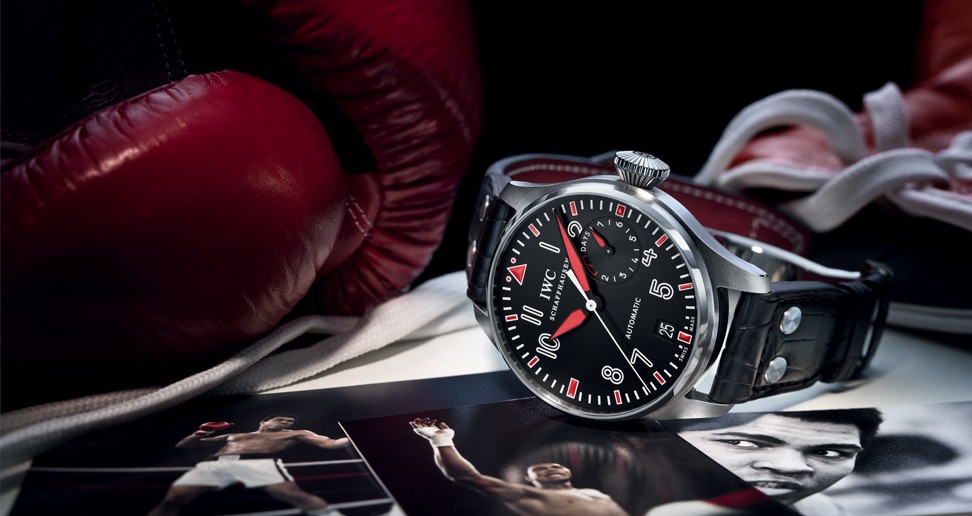 From the Net regarding this special watch:
Muhammed Ali —Cassius Marcellus Clay Jr.— passed away last night June 3 , 2016 after a 32-year long battle with Parkinson's disease. Today, let's remember the 'Greatest of All Time' and the 'Sportsman of the Century' with a special watch that was presented by IWC more than four years ago at the end of March of 2012. The IWC Big Pilot's Watch Edition Muhammad Ali is a unique timepiece that was created to preserve and communicate the legacy and ideals of Muhammad Ali, to promote respect, hope, and understanding, and to inspire adults and children everywhere to be as great as they can be. Along with this watch, IWC also provided a monumental tome: "GOAT – Greatest of All Time." The book, weighing 75 pounds with over 3,000 illustrations by more than 150 photographers and artists, is a celebration of Ali's life and a literary event in its own right.
The Big Pilot's Watch Edition Muhammad was a fitting tribute to the great man's achievements in sports and in society as a whole. The dial design of the Edition Muhammad Ali is modeled unmistakably on the historic Big Pilot's Watch of 1940. However, the iconic and easily identifiable matte black dial, features an unusual combination highlighted with signal-red superluminova. The red is mirrored on the inside of the black alligator leather strap and its selection was no coincidence as it references Muhammad Ali's favorite color who often wore red boxing gloves for his fights. The case back shows the engravings reading: "Edition Muhammad Ali, ONE OUT OF 250."