Leica 24/1,4 Summilux-M Asph black 6 bit Cat #11601 S/N 42434xx Ex++/Mint- Condition
Leica Certified Pre-Owned Lens
Sold with:
Leica Original Box,Leica hood,Leica caps,Lens manual,Certificate from Germany that lens was checked recently and is 100% to leica specs, and with Leica USA 1 year USA warranty
Leica 24mm black finder & Leica 13044 Series VII UVA II black New filter
Great Lens & great price with Leica 1 year warranty
| | |
| --- | --- |
| Filter Size | Series 7 filters in lens hood |
| f/Stop Range | 1.4-16 |
| Minimum Focus Distance | 2.3' (0.7 m) |
| Magnification | 1:25 |
| Angle of View | 84° |
| Groups/Elements | 8/10 |
| Length | 2.3" (59mm) |
| Maximum Diameter | 2.4" (61mm) |
| Weight | 1.1 lb (500g) |
The very high-speed and compact LEICA SUMMILUX-M 24 mm f/1.4 ASPH. gives photo- journalists a new tool for their work. The lens is ideal for available light photography. Like the 21mm f/1.4, it consists of ten lenses in eight groups. Until the advent of state-of-the-art blank-press methods for aspherical lenses, it was not possible to create these new Summilux-M lenses. Hand assembled in Solms Germany, this meticulous craftsmanship also ensures long term reliability even in challenging conditions. The correction of colour imperfections requires great deal of effort. and to that end this 24mm lens incorporates five separate lenses with anomalous partial dispersion. As a result, vignetting and distortion, the parameters traditionally difficult to control in fast wide-angle lenses, are corrected so well that they are hardly noticeable in practice. Even at an f-stop of 2.8, in effect, only natural vignetting is present. Patented rectangular lens hoods fit Series VII filters. Cat # 11601 New USA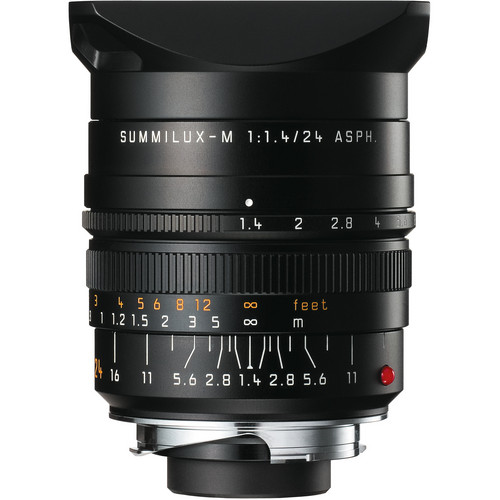 The Leica 24mm f/1.4 Summilux-M Aspherical Lens is a wide angle lens designed for high-speed performance. The wide angle view offered by this lens makes it possible to work efficiently in cramped quarters. It adds a more dynamic feeling to close-up pictures and gives landscape photographs significantly more depth.
The lens is optimized for use with the digital M8 camera, and will hardly show any light falloff when set to its widest open aperture (f/1.4). But even when used with a 35mm system, stopping down to f/2.8 will lead to absolutely outstanding image quality. Its bright f/1.4 aperture allows for an extremely shallow depth of field (DOF), and at a medium f/stop, the focal range is so great that entire scenes can be reproduced sharply. Because of its floating element design, the very high resolution is retained even in the close-up range.
This lens features "6-bit" coding, which allows the digital M camera to read this information optically and to identify which lens is being used. The camera can then (optionally) apply a "final stage" software based vignetting correction (for RAW images the lens used is simply recorded, no change is made).
Compact wide-angle lens, with one aspherical element and five made of a glass type with anomalous color dispersion (partial dispersion), to correct for color aberrations
Floating element group maintains performance in the close-up range
Includes "6-bit code" which allows digital M-series cameras to identify which lens is being used, and also to store this information in image metadata
Hand assembled in Solms Germany